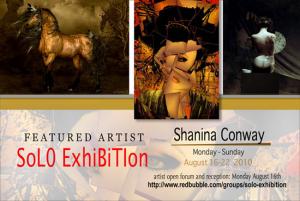 Shanina Conway, in Solo Exhibition, in the Digital Arts Gallery, in Solo Exhibition,
August 16 – 22, with 'Imaginative Digital Fine Art'...

Shanina Conway's flare for "B movie poster" art, or even dark Gothic themes may surprise you, if you are only familiar with her evocative Geisha's, or her enchanted horse paintings.
The Australian artist successfully combines old and new art and mediums, primarily working in 3D and digital painting and collage.
Shanina's fine digital art often blurs the line between traditional and digital painting, but always has an edge that captivates the viewer, in between worlds.